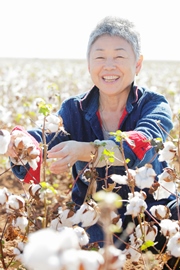 Avanti Co., Ltd. COO Chieko Watanabe
It's been over 15 years since we first met this energetic lady with a strong sense of justice and upwelling creativity. She played the leading role in our visit to Texas organic cotton fields in Oct 2012.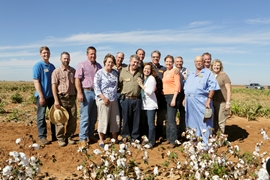 Wonderful Organic Cotton Farmers in Texas, USA
We asked the happy virile farmers and their charming wives why there are so many farmers who would not choose to grow organic. "It's because it takes too much time and energy. People still believe agrichemicals are safe," they answered with their consistent beliefs.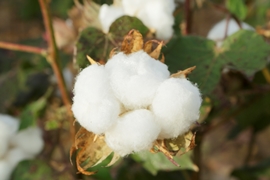 Why Organic Cotton?
There is a clear reason why we chose organic cotton among wide variety of organic textiles. Most of the conventional cotton use genetically-modified seeds which are usually grown with agrichemicals including pesticide, herbicide and defoliant for easy-picking. Excess agrichemicals kill microorganisms which help make fertile soil, resulting in breaking down the ecological balance.